Air Treatment Equipment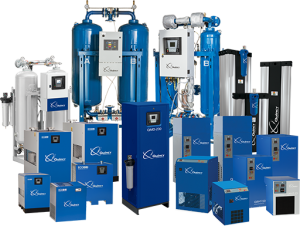 Dryers
Quincy dryers are an essential tool for condensation management in a number of industrial applications. Quincy refrigerated air dryers are available in cycling and non-cycling configurations.
For smaller footprint applications experiencing consistent loads, choose one of the QPNC series of non-cycling dryers. For maximum efficiency, QED dryers feature a three-stage heat exchange system with cold storage, allowing the unit to cycle on and off as necessary. Finally, the QRHT is a compact, high-temperature system designed to work with reciprocating compressors producing discharge temperatures up to 180°F.
Cycling, non-cycling and high temperature refrigerated dryers
Heatless, heated purge and blower purge desiccant dryers
---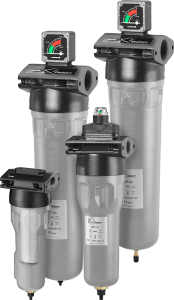 Air Filtration 
To complement Quincy compressors, Quincy offers a large selection of air filtration systems. Standard filters include particulate, coalescer and absorber-type products, all of which feature push-to-fit design, multi-wrap element construction and a 10-year warranty on aluminum or steel housing components.
Quincy high pressure filters are built for heavy-duty use. Their unique design features a coalescer to remove liquid aerosols and an activated carbon absorber to reduce odors and vapors. To accommodate many different potential applications, high pressure air filtration systems are available with pipe sizes ranging from ¼" to 2" in diameter.
Use Quincy mist eliminators to remove oil, particulates and water from compressed air with exceptional efficiency. Quincy products feature a unique double element design that uses a combination of impaction, interception and Brownian movement to remove 100% of particles 3 microns or larger and 99.5% particles as small as 0.01 micron. Rounding out our selection of air filtration equipment, we also offer high-quality, specially blended borosilicate glass microfiber elements compatible with all major manufacturers' products.
Standard filters
High pressure filters
Mist eliminators
Preferred elements
---

Condensate Management
Quincy manufactures no-loss pneumatic (QDD) and electronic (Q-MAT) drains that offer reliably efficient performance, as well as electronic timers for coordinating industrial processes. Quincy also offers the QCS series of condensate purifiers, available in up to 1600 CFM configurations to accommodate multiple compressor units. Features include a carbon-free filter media that removes all compressor fluids, including polyglycols. To simplify maintenance, filter cartridges are removable, allowing for easy disposal of contaminated condensate.
Drains
Condensate Purifiers